Odroid C4
Odroid C4
ODROID-C4 is a new generation single board computer that is more energy efficient and faster performing than ODROID-C2 which was introduced over four years ago as the world's first affordable ARM 64bit computer.
The main CPU of the ODROID-C4 is built with a quad-core Cortex-A55 cluster with a new generation Mali-G31 GPU. The A55 cores run at 2.0Ghz without thermal throttling using the stock heat sink allowing a robust and quiet computer. The CPU multi-core performance is around 40% faster, and the system DRAM performance is 50% faster than the ODROID-C2.

| | | | |
| --- | --- | --- | --- |
| A | CPU (Amlogic S905X3) | H | 2 x System LED indicators |
| B | DDR4 memory (4GiB) | I | 1 x UART for system console |
| C | 4 x USB 3.0 host ports | J | 1 x IR receiver |
| D | 1 x RJ45 Ethernet port (10/100/1000) | K | 40 x GPIO pins |
| E | 1 x HDMI 2.0 | L | 7 x GPIO pins |
| F | 1 x Micro USB 2.0 port (OTG) | M | 1 x eMMC module socket |
| G | 1 x DC power jack (Outer diameter : 5.5mm, inner diameter : 2.1mm) | N | 1 x Micro SD slot |
CPU performance
Dhrystone-2, Double-Precision Whetstone, 7-zip compression benchmark results show the ODROID-C4 system performance is 40 ~ 55% faster than the previous generation ODROID-C2.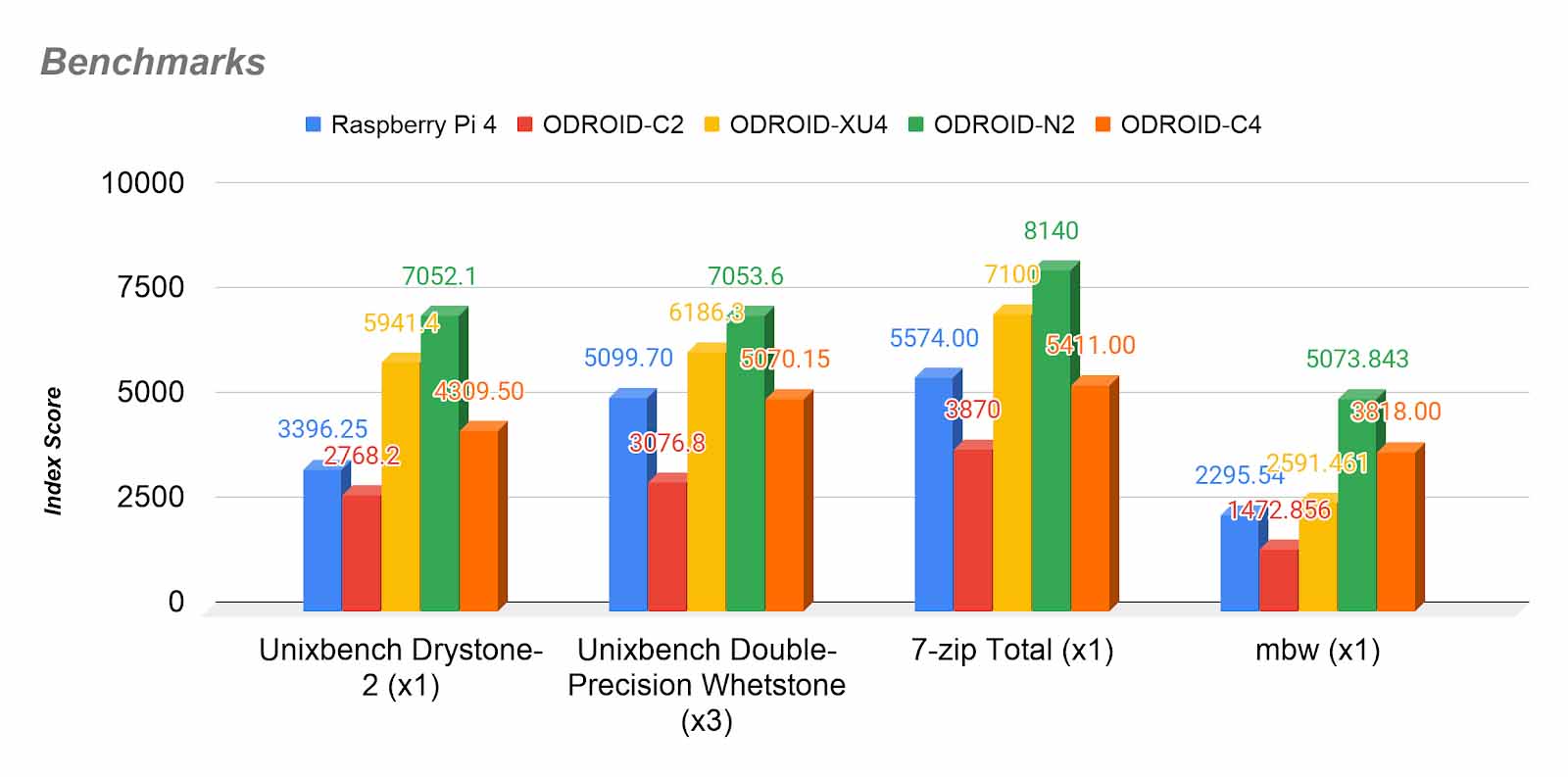 GPU performance
The Mali-G31 runs at 650MHz and is ~50% faster than Mali-450MP in ODROID-C2. The Mali-G31 is the first generation Bifrost-based mainstream GPU from Arm.
GPU performance was measured with the glmark2-es2 "–off-screen" option.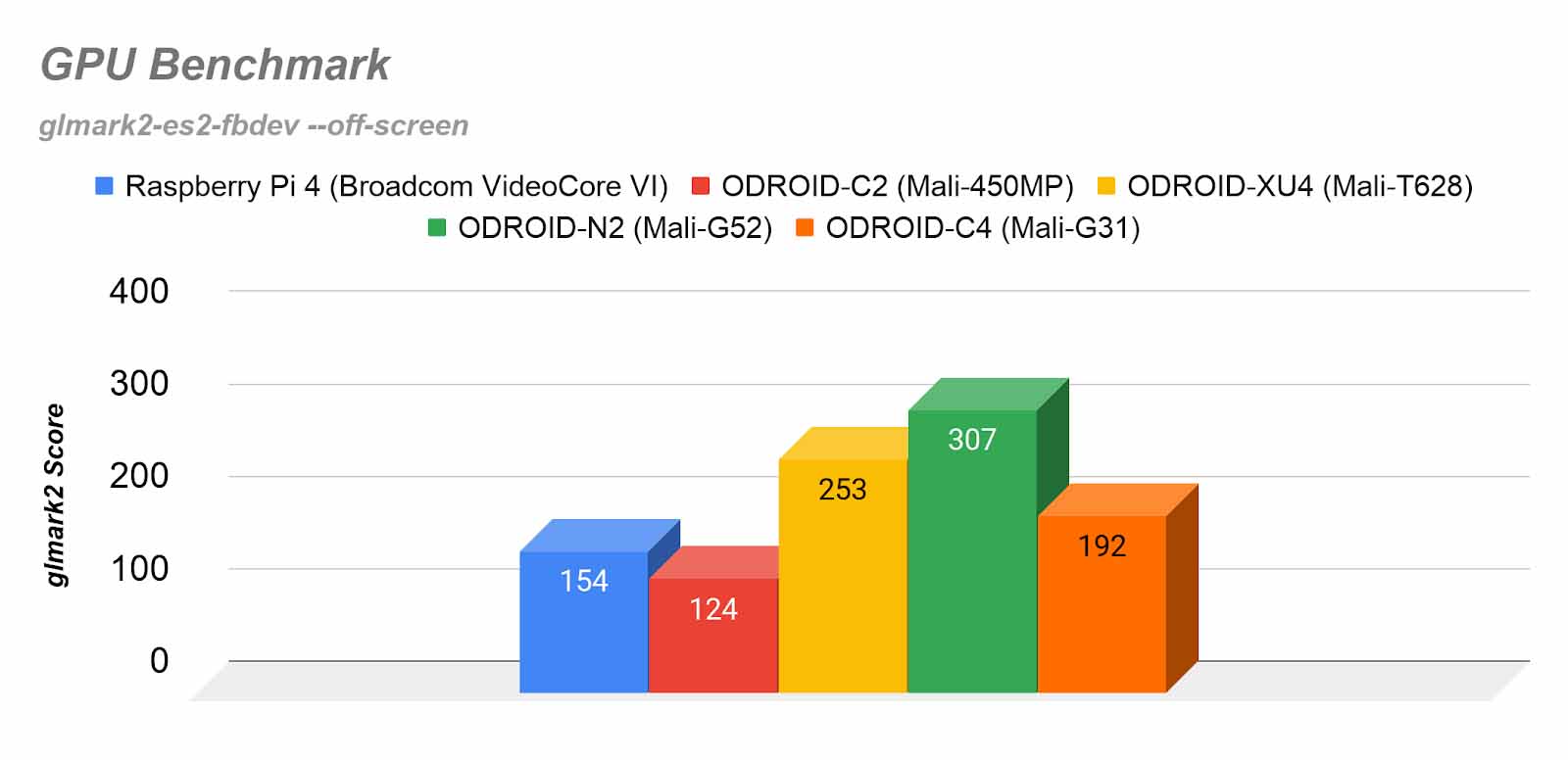 RAM performance
Why does DDR4 matter? ODROID-C4 DDR4 RAM runs at 1320Mhz. The memory bandwidth is 1.6 times higher than ODROID-C2.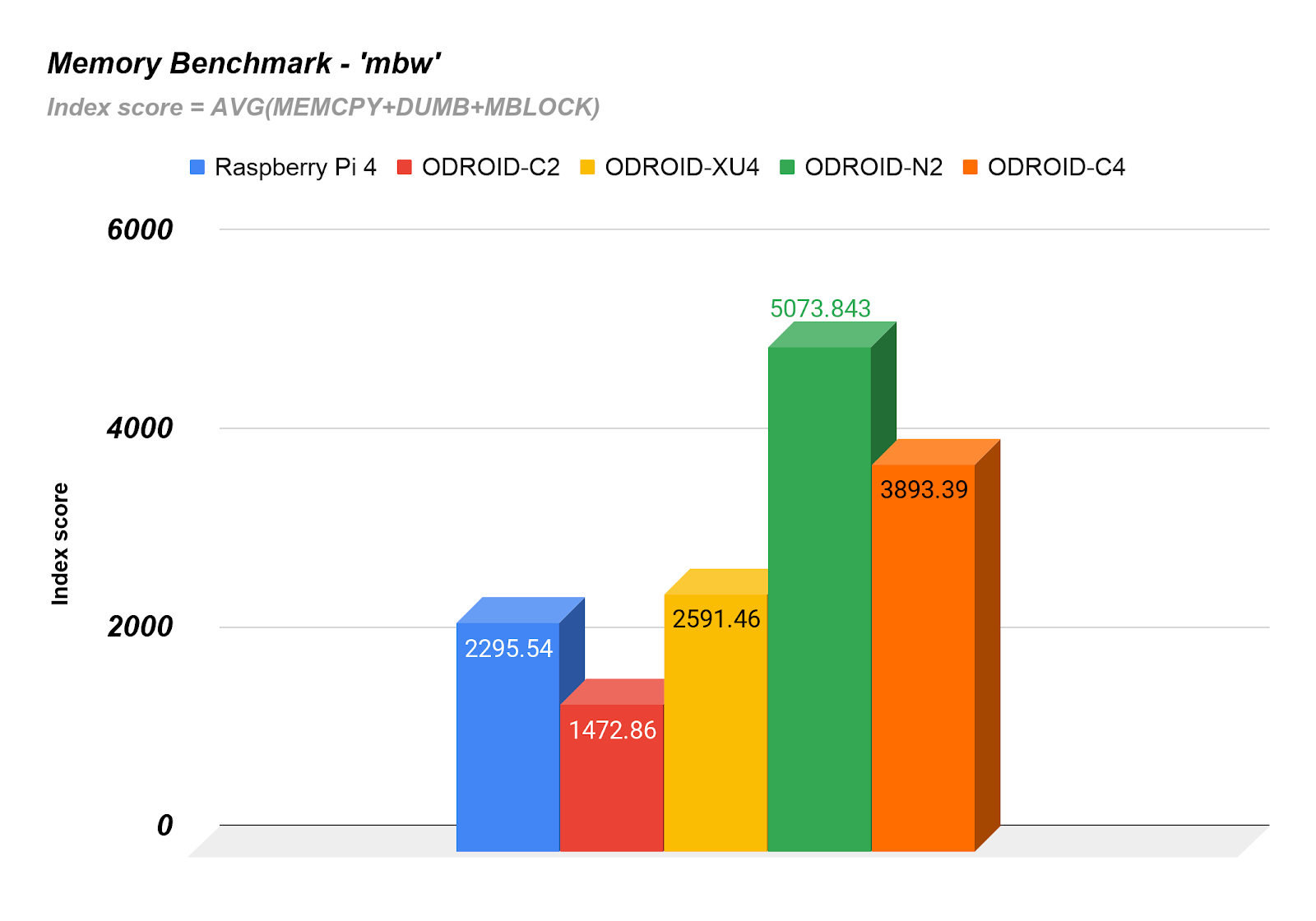 CPU frequency vs performance
Some ODROID users may recall the lower than expected clock speed with ODROID-C2's S905.
We ran a test to confirm the ratio between CPU clock frequency and performance with ODROID-C4.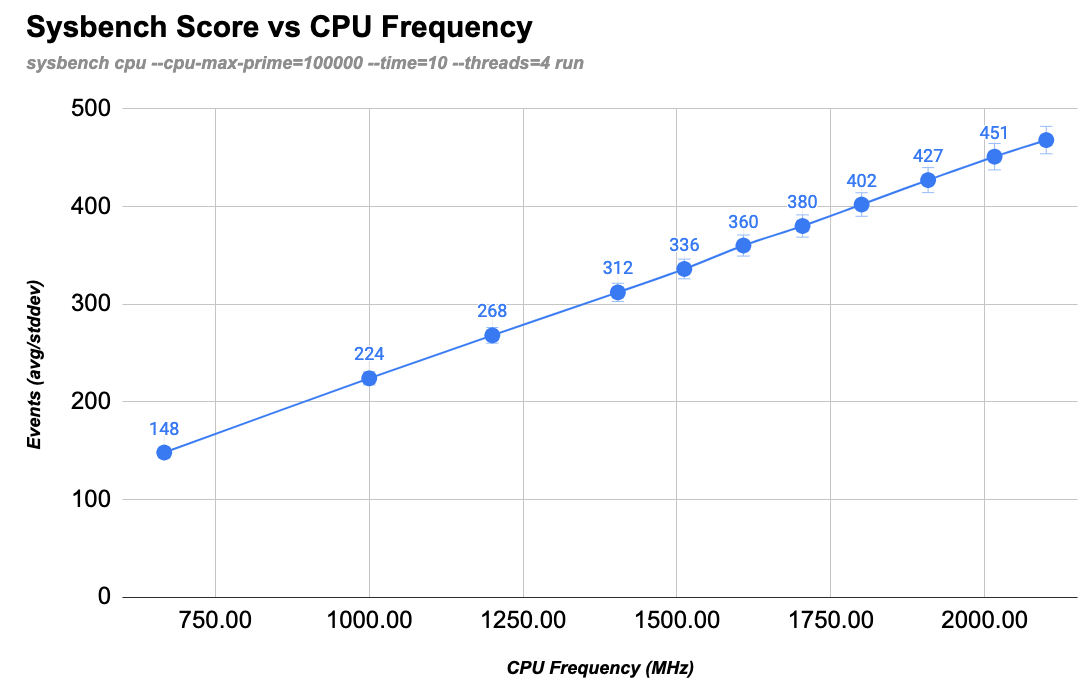 Thermal characteristics
To check thermal throttling, we ran some heavy CPU and GPU loads together on the SoC and monitored the temperature. We ran the test within a chamber that maintains the ambient temperature at 25°C.
Note that the current thermal throttling point is set at 75°C in the Kernel configuration.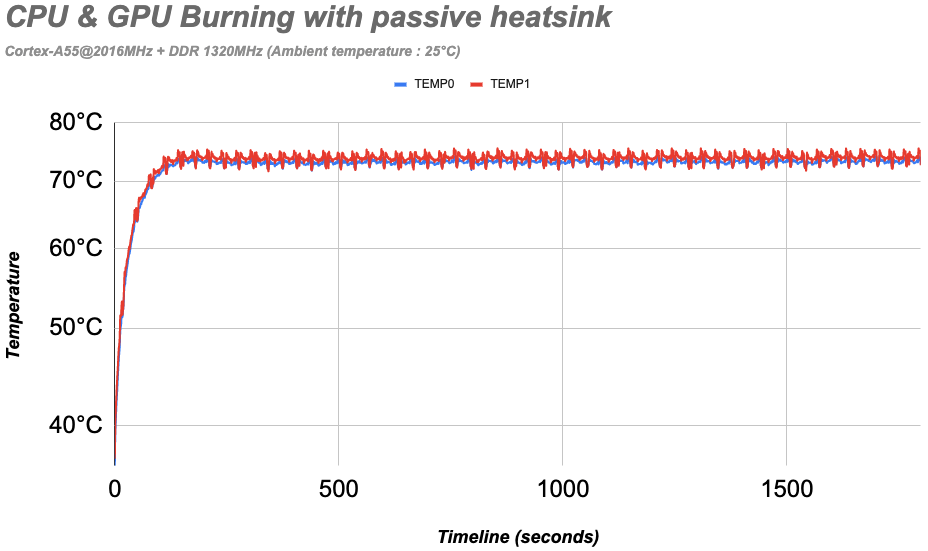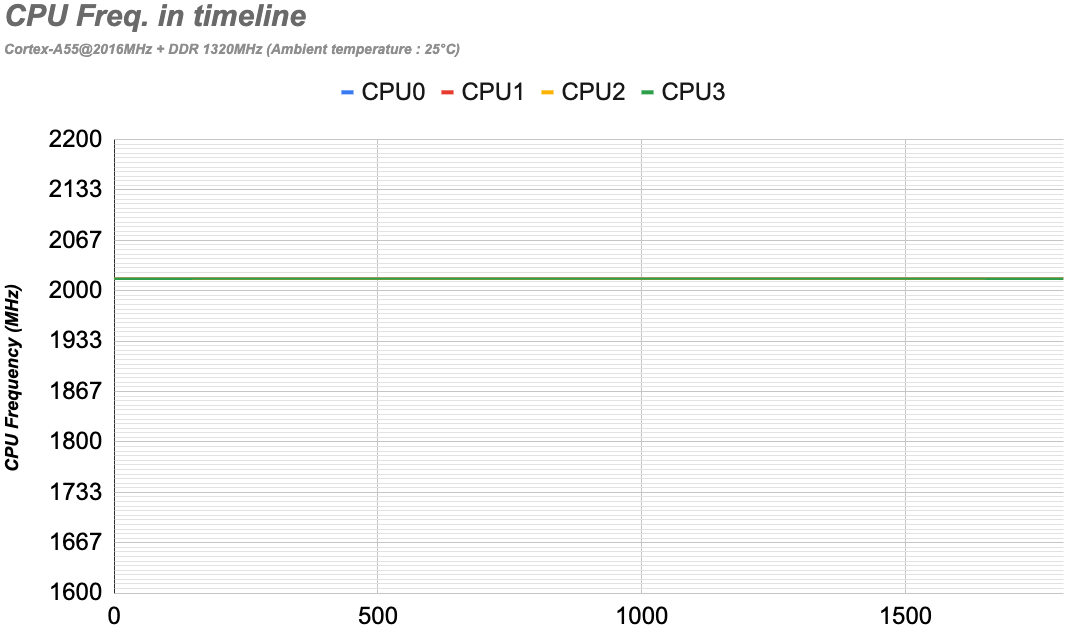 Note that if you put the ODROID-C4 board into an enclosure, you may encounter some thermal throttling issues when the ambient temperature is higher than 20°C and the continuous computing load is very high.
Ethernet
According to our iperf test result, the throughput performance was near 1Gbps.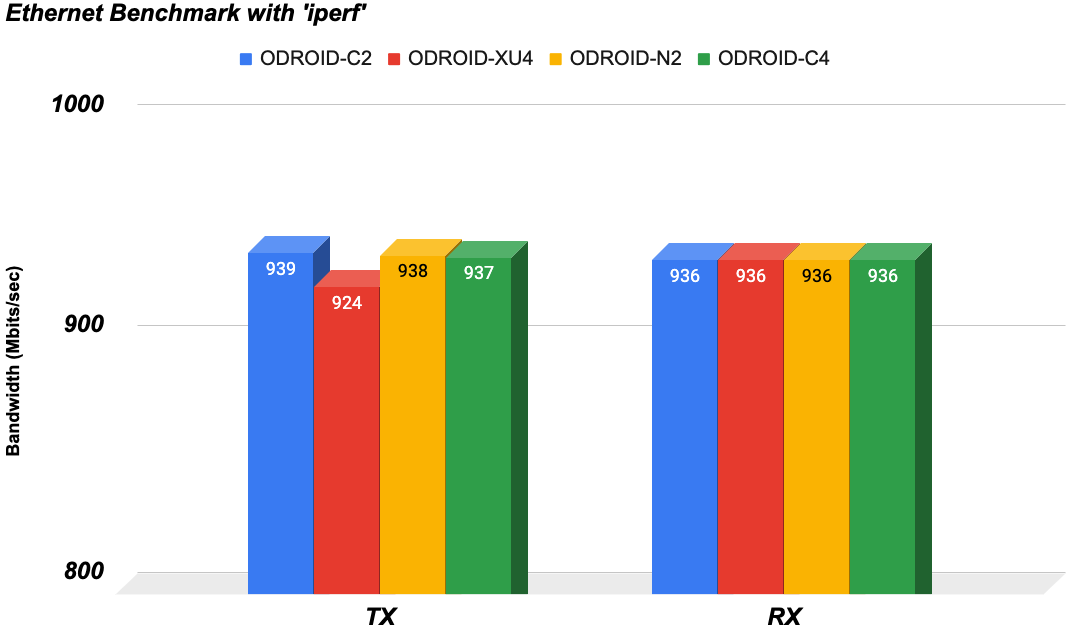 USB Host
We measured the USB3 transfer speed with a UAS capable SSD.
The average ~340MB/s of throughput should be acceptable for many applications.
Since four USB host ports share a single root hub, the transfer rate will be lower if you use multiple USB3 devices at the same time.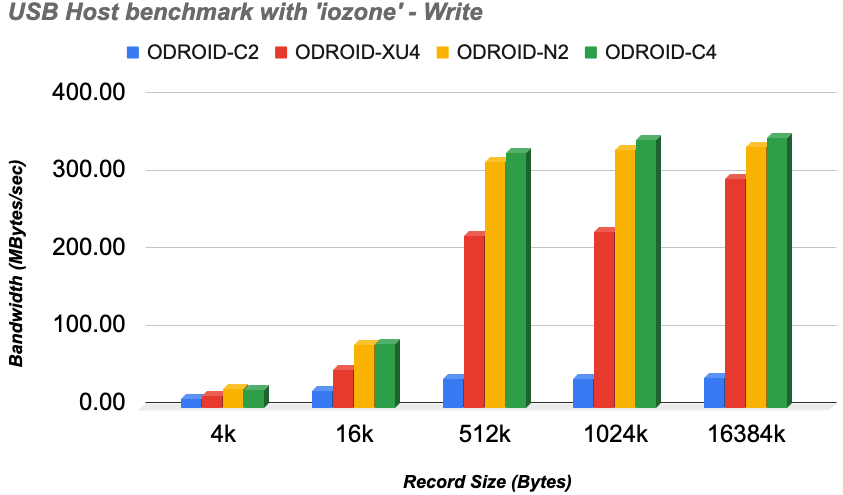 eMMC storage performance
Sequential read and write speed is over 165MB/s and 125MB/s respectively.
4K random access performance is reasonably fast too. iozone test results are as follows.

Micro-SD UHS performance
Using properly implemented UHS dynamic voltage scaling, the sequential read and write speed is over 70MB/s and 50MB/s respectively.

Cryptography
The ARMv8 architecture supports hardware accelerated crypto extensions for building a secure system. As expected, we could see very decent openSSL performance with ODROID-C4.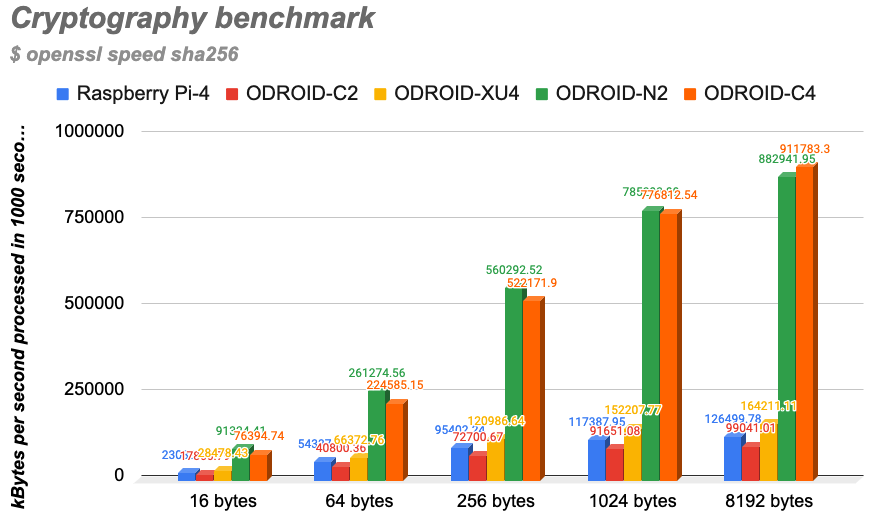 GPIO (40Pin Header)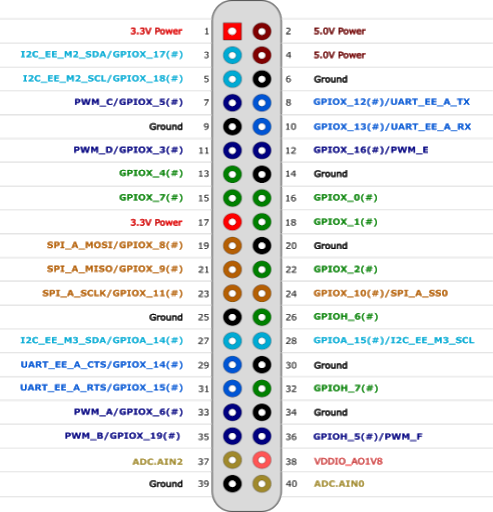 The ODROID-C4 GPIO interface is similar to C2 and fully supports a 3.3Volt interface. This is beneficial for using various peripherals without complicated level shifters as with the XU4's 1.8Volt GPIOs. Another big improvement is a faster SPI bus interface with a maximum frequency of about 100Mhz. It is significantly faster than the ODROID-C2's 400Khz software "bit-banged" SPI.
Power consumption
Thanks to the modern 12nm fabricated S905X3 CPU, the power consumption and heat dissipation are relatively very low.
Therefore, we can enjoy a quiet and powerful computer with high energy efficiency.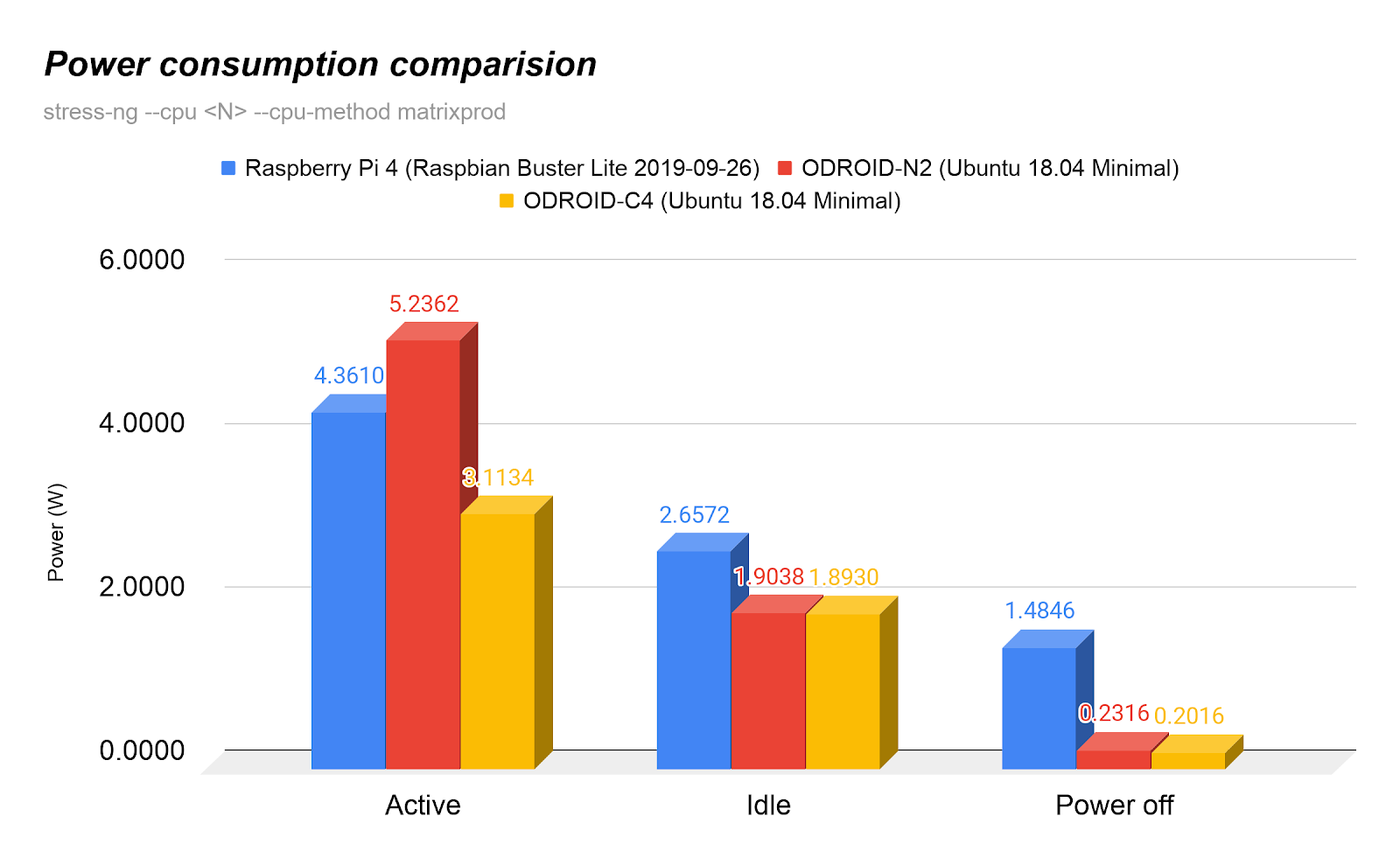 Idle state: ≃ 0.18 Watt
Heavy load state: 3.1~3.3 Watt (stress-ng –cpu 4 –cpu-method matrixprod)
No cables are attached except DC power input and USB-UART debug console cable.
Note:
The power consumption in "IDLE" is measured when a device is not being operated for 5 minutes since the CPU governor is set to 'performance'.
The measured power consumption is not absolute and could vary in certain conditions.
Specifications
Form factor
Board Dimensions: 85mm x 56mm x 1.0mm

Heatsink Dimensions: 40mm x 32mm x 10mm

Weight: 59g including heatsink

Processor
Amlogic S905X3 12nm Processor

L1 instruction cache: 32 KB, 4-way set associative (128 sets), 64 byte lines, shared by 1 processor

L1 data cache: 32 KB, 4-way set associative (128 sets), 64 byte lines, shared by 1 processor

L3 data cache: 512KB , 16-way set associative (512 sets), 64 byte lines, shared by 4 processors

Quad-Core Cortex-A55 (2.016GHz)

ARMv8-A architecture with Neon and Crypto extensions

Mali-G31 MP2 GPU with 4 x Execution Engines (650Mhz)

Memory
DDR4 4GiB with 32-bit bus width

Data rate: 2640 MT/s (PC4-21333 grade)

1.2Volt low power design

Storage
1x eMMC connector (8/16/32/64GiB are available)

1x Micro SD slot (DS/HS mode up to UHS-I SDR104)

Networking
1 x GbE LAN ports (RJ45, supports 10/100/1000 Mbps)

– Realtek RTL8211F (Ethernet transceiver)

– LED indicators

* Green LED: Flashing by data traffic at 100Mbps connection

* Amber LED: Flashing by data traffic at 1000Mbps connection

Optional WiFi USB adapters

Video
1 x HDMI 2.0 (up to 4K@60Hz with HDR, CEC, EDID)
Audio
1 x HDMI digital output

1 x Optional SPDIF optical output

External I/O
4 x USB 3.0 Host ports (shares one single root hub)

1 x USB 2.0 OTG port for Host or Device mode. (No power input)

1 x Debug serial console (UART)

1 x Peripheral Expansion Header (40-pin, 2.54mm pitch)

2x DC 5V, 2x DC 3.3V, 1x DC 1.8V, 8x GND
1x SPI
1x UART
2x I2C
6x PWM
2x ADC input (12bit, 1.8V Max)
25x GPIO (Max)

1x Audio Expansion Header (7-pin, 2.54mm pitch)

1x DC 5V
1x SPDIF out
1x I2S

– All 3.3V I/O signal level except for ADC input at max 1.8Volt.

Other features
IR receiver for remote controller

System LEDS Indicators:

– Red (PWR) – Solid light when DC power is connected

– Blue (ALIVE) – Flashing like heartbeat while Kernel is running.

Power
1 x DC jack : outer (negative) diameter 5.5mm, inner (positive) diameter 2.1mm

DC input :  5.5V ~ 15.5V

– DC 12V/2A power adaptor is recommended

Power consumption:

– IDLE : ≃ 1.8W

– CPU Stress : ≃ 3.64W (Performance governor)

– Power-off : ≃ 0.14W