TREZOR Cryptocurrency Hardware Bitcoin Wallet
All purchases of this wallet include a
Bonus Gold Plated Bitcoin Art Collectible.
So...
Why do you need a Hardware Wallet???
You take control of your precious Cryptocurrency portfolio. Don't just rely on a server somewhere on the net that can be hacked to store your money. Placing your information into a hardware wallet that can only be accessed by youself when plugged into your computer is the best method to ensure that your Cryptocurrency remains safe.
A Bitcoin wallet the initial step to utilizing Bitcoin, as with no wallet, there is no Bitcoin transaction that can be made. In conclusion, you can't even own a Bitcoin without the wallet.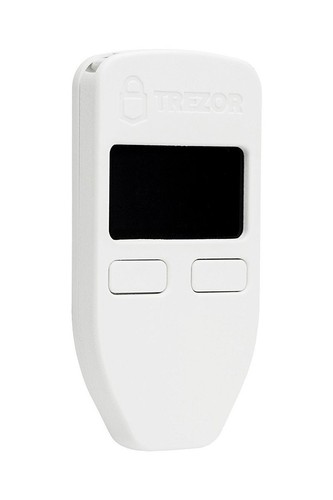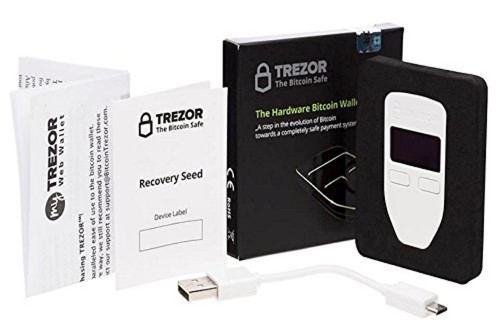 Available in white and black. Please select your colour preference when adding to the checkout cart. 
No return accepted if the security seal and/or wrapping are damaged or tampered.
The Trezor boasts advanced cryptography, reliable hardware, simple interface; culminating in a minimalistic, yet secure cryptographic hardware wallet. The Trezor is water resistant, durable, and fits in the palm of your hand. Physical buttons for confirmations, and a built-in display allow you to be in control of where and when your cryptocurrency moves.
Isolate your private keys to your Trezor device to enjoy the safety and security of your own personal cryptographic hardware wallet.
The Trezor devices are capable of storing the following coins:
COMPATIBLE COINS - Bitcoin, Ethereum (+ all ERC-20 tokens), Ethereum Classic, ZCash, Litecoin, Namecoin, Dogecoin, Dash and Bitcoin Testnet
Bitcoin/BTC (Trezor Wallet)

Litecoin/LTC (Trezor Wallet)

Dash/DASH (Trezor Wallet)

Zcash/ZEC (Trezor Wallet)

Bitcoin Cash/BCH (Trezor Beta Wallet)

Ethereum/ETH (MyEtherWallet)

Ethereum Classic/ETC (MyEtherWallet)

ERC20 Tokens (MyEtherWallet)
Technical information
Size
60 x 30 x 6 mm (2.4 x 1.2 x 0.2 in)
Weight
12 g (0.42 oz)
Connectivity
Micro USB connector for connecting to the computer or mobile phone.
Safety and certifications
The TREZOR is CE and RoHS certified, so it meets all quality, reliability and environmental standards. Its fine to take your TREZOR with you on the airplane. Like all modern electronics, the X-Rays won't hurt it.
Operating temperature
-20°C to +60°C (-4°F - +140°F)
CPU
120 MHz embedded ARM processor (Cortex M3) running a custom developed system.
Screen
Bright OLED - 128x64 pixels. Enough to hold six lines of text. Can display all the details needed to verify a transaction in a single screenfull.